It's called Space Cake. It originated in Amsterdam, where it is the most delicious delicacy served in coffee shops, and is now one of the most popular cannabis-based food preparations ever, especially in the United States, where it has become a major food trend in recent years.
Opulent, rich and high in calories, it obviously includes marijuana as one of its main ingredients and its effects, due to the presence of THC and CBD, tend to manifest themselves within 1-3 hours. Versatile and relatively easy to prepare, it lends itself to many variations, some of which are very creative and absolutely personal, but one thing is certain: you have to try it at least once in your life to understand its characteristics and peculiarities, appreciating its characteristic taste that, let's face it, you never forget!
What is space cake and where do you eat it?
The original space cake is a mouth-watering cake made from a mixture of butter, flour, sugar, milk and eggs, with sufficient cannabis added in a water-alcohol solution such as rum, or alternatively in a fatty substance such as butter and margarine, a prerequisite for the marijuana to release the maximum amount of active ingredients present, without affecting its integrity or subsequent effects.
It was born in Amsterdam, the place that determined its consecration, thus making space cake one of the most widespread, consumed and appreciated products in coffee shops, where very personal recipes are proposed that vary in shape as well as taste, but which nevertheless present a common denominator: the massive presence of marijuana that determines its characteristic effects due to THC and CBD, although with a slight delay compared to what happens when inhaling it.

The basic recipe for space cake is relatively simple and this delicacy can easily be baked at home, although a number of precautions need to be taken in order to preserve the active ingredients of cannabis and thus amplify its effects.
However, should the opportunity arise to stay in Amsterdam, the 'home of the space cake', there are plenty of coffee shops known for this traditional and tasty speciality that can be enjoyed there at any time of day, perhaps as a snack, accompanied by a delicious marijuana infusion.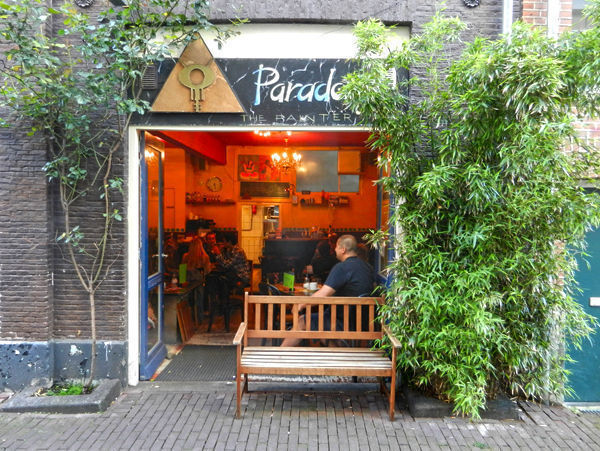 One of the best space cakes in Amsterdam is offered by the Paradox Coffeeshop, located in one of the city's historic buildings in the quiet Jordaan district. As well as offering many tasty variations of space cakes, it also offers the possibility of enjoying pleasant drinks such as infusions, smoothies and milkshakes of all kinds.
Next up is 420Cafe, located in the lively city centre and known not only for its tasty space cakes but also and above all for the possibility of enjoying them with a pleasant background of rock music, in the pleasant setting of the rustic lounge that makes the place unique.
The Dampkring Coffeeshop, which faces Amsterdam's Centraal Station and is located on the ground floor of the famous Hotel Voyager, not far from the characteristic 'red light district', offers eight of the most famous varieties of cannabis and, of course, the much-loved space cakes, which will satisfy even the most demanding palates.
The legendary The Bulldog, established in the 1970s and now an international brand, is a must. Situated in the red light district, it is one of the city's most frequented establishments, even by celebrities, where you can not only smoke by the canal but also appreciate the many space cakes that have contributed to making it unique over the years.
Lastly, the Green House Coffee Shop, also near the Red Light District, offers one of the best chocolate space cakes in the city, as well as a wide selection of the most sought-after cannabis.
How to make space cakes
As already mentioned, the classic space cake recipe lends itself to many creative variations: additional ingredients can be added to enrich the already characteristic taste of cannabis, making it a space cake.
The essential ingredients for 8 people are:
10 grams of cannabis inflorescences preferably Lemon Haze, Purple Haze or Royal Cookie;
3 ½ cups 00 flour;
2 cups butter;
2 cups brown or caster sugar;
4 whole eggs;
1 ½ cups milk;
Half a sachet of vanilla baking powder;
Fine salt to taste;
Chocolate chips to taste;
However, before proceeding with the preparation of the cake, it is necessary to carry out a very important preliminary operation involving cannabis itself, the so-called decarboxylation, a particular chemical process which makes it possible to improve the effects of the active ingredients present in the cake.
By means of this process, it is possible to transform cannabinoids from their characteristic basic and inactive form into an acidic and active form, thanks to the presence of heat. In fact, the active ingredients themselves, when subjected to heat, are placed in a position to promote their concentration, thus also increasing the subsequent effects.
To proceed with decarboxylation, take the cannabis inflorescences and spread them out on an aluminium baking tray, without overlapping the tops, leaving enough space between them, and place them in the oven at a temperature of 104 to 113°C for about an hour.
Once the necessary time has elapsed and the decarboxylation has been completed, it is possible to prepare the cannabis which will then be used in the preparation of the space cake: it will be necessary to use a fat material, in this case butter, previously cut into cubes and melted at room temperature, to which the marijuana, appropriately chopped up with the aid of a grinder, will obviously have to be added.
The butter and cannabis mixture is then placed in a saucepan and heated over a very low heat for about 20-25 minutes to allow the cannabinoids to bind properly to the fat, taking care not to bring everything to a boil to avoid inevitably losing the active ingredients. The result is the so-called cannabutter, which is then used as an ingredient for the space cake when it is cold and homogeneous.
Once the butter has cooled with the cannabis, add it to the sugar, eggs and milk, mixing with a whisk or an electric mixer until the mixture is smooth and fairly frothy. Then add the flour, baking powder and chocolate chips, taking care to mix everything together until it is smooth and lump-free. If the mixture is too compact, simply add a little more milk. If it is too liquid, simply add one or two tablespoons of flour.
Lastly, line the baking tray, preferably non-stick, with a sheet of greaseproof paper, pour the mixture into it and level it out with a spatula until it is evenly distributed: it will take about 45 minutes to bake in an oven, preferably ventilated and preheated to around 170°C, taking care not to open it until it is cooked so as not to compromise the leavening and the final result.
After the necessary time has elapsed, check that the cake is cooked by inserting a toothpick into the cake: if it is dry, just wait for the space cake to cool completely and then enjoy it with an excellent herbal tea.
Otherwise it will be necessary to put it back in the oven for another 5/7 minutes, checking that the surface does not burn, which would compromise the final result. Once ready, the space cake can be decorated as desired with a dusting of icing sugar, moistened with rum, covered with icing or filled with cream.
Variations on the traditional space cake recipe
The space cake is a cake that lends itself to many variations, all of them creative. In fact, since it is a rather 'neutral' type of cake in terms of taste, it is possible to experiment with combinations to create delicious desserts.
The most classic variant involves adding 4 to 5 tablespoons of unsweetened cocoa to the base mixture to create a delicious chocolate cake with pleasant psychotropic effects.
If, on the other hand, you wish to give the space cake a spicy and energetic flavour, the addition of cinnamon and cardamom will help to make it unique, but always pay attention to the dosage: as they are intense spices they could cover up the typical taste of cannabis and this is why it is better to limit yourself to just the tip of a teaspoon.
The space cake is a pleasant accompaniment to ice cream or a classic custard, in this case used as a filling. Alternatively, orange marmalade combined with the chocolate variant will make the space cake very similar to a sacher torte, especially if finished with a delicious dark frosting.
Cut into thin slices and lightly soaked in rum, the space cake can also be freely used as a valid alternative to ladyfingers in tiramisu: serving it in single portions in cups or glasses, alternating the cake with the classic mascarpone cream, will make the most traditional spoon dessert, lively and even more vivacious.
Also worth mentioning is the cannabis cheesecake where, with the space cake itself, it is possible to make the disc that forms the base, commonly made using dry biscuits and butter, on which the traditional cream made with mascarpone cheese, spreadable cheese and a thickening agent such as isinglass can be superimposed.
Using the principle of the basic space cake recipe, it is even possible to make delicious cannabis tarts with fruit and cream: simply double the amount of cannabis butter in the basic recipe and remove the yeast.
In this case, however, it will be necessary to make a solid dough, using your hands and a pastry board, which should be left to rest in the fridge for at least half an hour before being placed in the baking tin and baked at a medium heat of around 160°C for half an hour or until the surface is golden brown.