In recent years, CBD cosmetics have rapidly attracted the interest of consumers who are increasingly aware of what they are applying to their bodies. The reason is simple: organic cosmetics use high concentrations of pure, natural and exclusively plant-based active ingredients, avoiding the use of synthetic substances that are potentially harmful to the skin and the whole body, as well as animal testing.
However, in order to be defined as such, organic cosmetics must combine specific characteristics: they must be organic both for those who use them and for the environment through recycled and recyclable packaging, as well as not containing elements in the formula that are harmful to the body or derived from toxic or dangerous substances.
The main advantage of organic cosmetics is that they offer greater benefits while using much smaller quantities of product. In fact, they guarantee optimum effectiveness even with minimal formula dosages. The era of exaggerated amounts of product, waste and environmental impact is over: the watchword now is "less for better" and satisfactory results.

What organic cosmetics are and how to recognise them
Organic cosmetics are products that have been formulated using only natural substances, usually of plant origin, which must not be harmful or potentially harmful to the body. All products must also have packaging made of recycled and recyclable materials and, as a result, a reduced environmental impact.
Although it may seem difficult to avoid using untreated elements in products for the face, hair and body, in order to be to all intents and purposes certified organic, a cosmetic must contain reduced or, better still, non-existent concentrations of surfactants, silicones, synthetic dyes, petroleum derivatives, parabens and allergenic substances, and must not use GMOs but use raw materials from certified organic farming.
The raw materials themselves must have a traceable supply chain, guaranteeing ethicality, sustainability, naturalness and environmental friendliness: essential oils, to cite just one example, must be 100% pure, even if they do not come from organic farms in Italy.
Lastly, organic cosmetics must be vegan and cruelty free, i.e. they must not have been tested on animals. It is relatively easy to recognise an organic cosmetic because of the certifications that the manufacturer must put on the packaging.
In Europe, there are certification bodies for natural and organic CBD cosmetics which check that specific standards laid down in the COSMOS specification are met.
As far as Italian organic cosmetics are concerned, the Ministry of Agriculture has recognised two certification bodies: ICEA (Institute for Ethical and Environmental Certification) and CCPB (Consortium for the Control of Biological Products). ECOCERT certification, which is essential for marketing organic cosmetics, is also accredited.
At the time of purchase, it is therefore advisable to carefully check the packaging, verifying that it bears the logo or seal issued by the certifying body. Similarly, it is useful to read the INCI to ensure that all the ingredients in the formula are truly of organic and natural origin.
The best reasons to start using organic cosmetics
Using organic cosmetics is not only healthier for the skin and the whole body, but it is also a careful, conscious, responsible and "green" choice. There are countless benefits attributed to this type of product, but at the same time there are several reasons that should lead to its use, by virtue of the advantages that a cosmetic of organic origin is able to bring: here are they.
They are free of synthetic substances: the main reason for choosing organic cosmetics is that they do not contain synthetic substances such as parabens, silicones, petrolatum or other elements that are harmful to the skin. These substances are generally used as preservatives in order to preserve the integrity and characteristics of the formula for as long as possible. Extremely common in creams, shampoos, bubble baths, detergents and most everyday skincare products, they should always be carefully read on the label.
Only pure and natural elements: Organic cosmetics have formulas that contain at least 95% substances of natural origin, 20% of which must come from organic farming. The control and certification bodies set very strict standards for this, both in terms of the composition of the cosmetic itself and the preservatives it contains.
They favour skin transpiration: unlike conventional cosmetics CBD, organic beauty products do not occlude the pores but on the contrary favour natural transpiration, since each element in the formula is chemically treated, leading to dryness and possible irritation.
They are cruelty free: organic cosmetics do not involve testing on animals.
They have recyclable packaging: the packaging that encloses organic cosmetics is always compostable, biodegradable and recyclable so as not to introduce plastics or potentially toxic substances or substances with an excessive environmental impact into the environment, fully respecting the concept of green and sustainability that allows you to easily enter into symbiosis with nature.
No contaminants: the preservatives present in organic products, which are necessary to preserve the characteristics of the cosmetic for a long time, allowing it to last longer, are always of natural origin.
They have accredited certifications: the quality of organic cosmetics is guaranteed and certified by accredited bodies such as EcoCert, Cosmebio, BDIH, ICEA, USDA or AIAB. This is synonymous with reliability, concreteness and authenticity.
They offer active, high-performance formulas: organic cosmetics contain over 50% more vitamins and minerals than ordinary products with synthetic formulas. Each natural element, being untreated, therefore preserves intact all the basic organoleptic characteristics, without undergoing any modification or transformation.
No allergies: organic cosmetics do not subject the skin to potentially allergenic chemicals. Each element helps to reduce waste and toxins naturally present in the body, thus promoting well-being.
CBD cosmetics: why cannabidiol helps your skin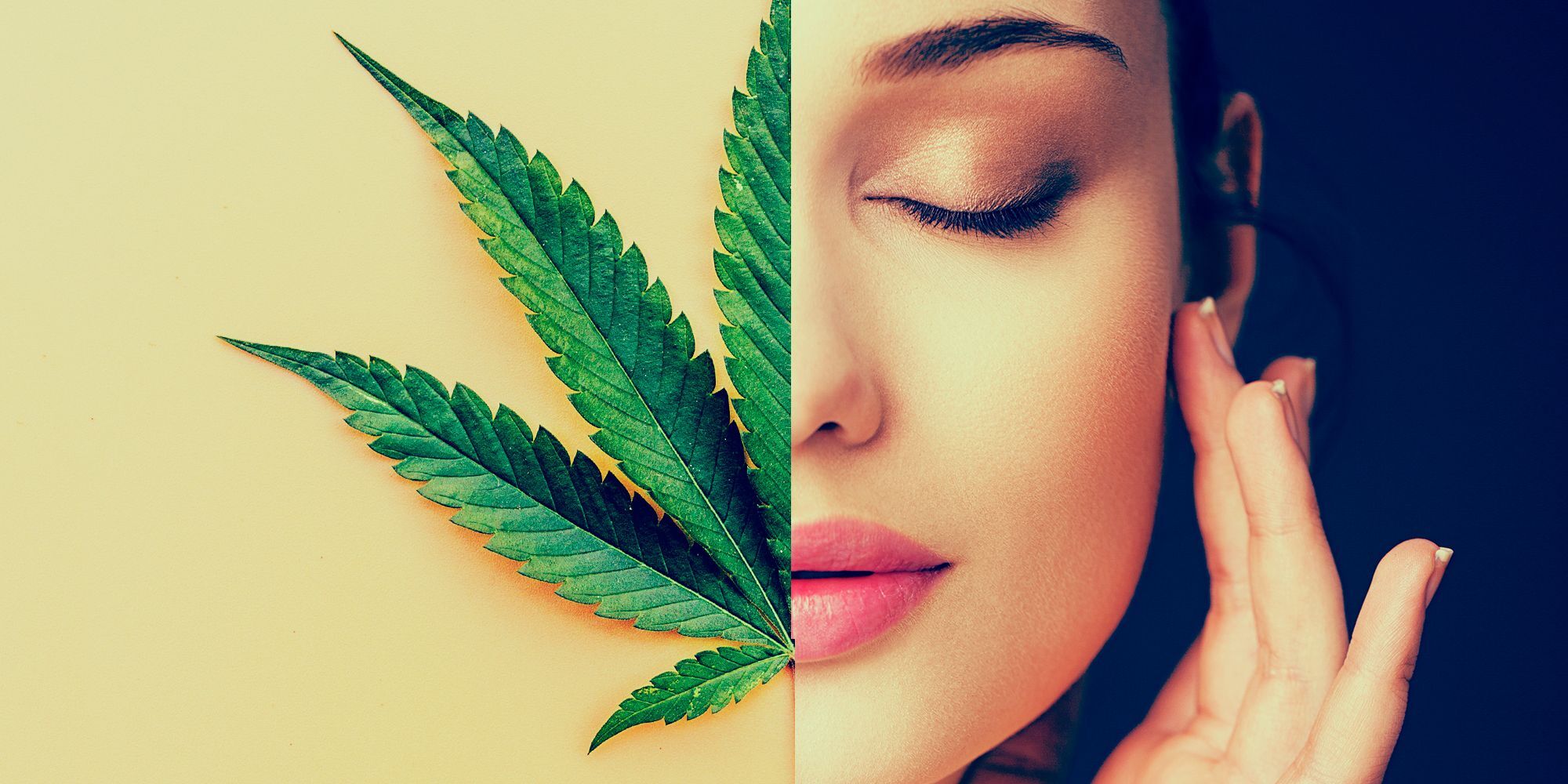 Increasingly popular, CBD cosmetics have high concentrations of CBD or cannabidiol, the active ingredient in cannabis, which is recognised for its properties and countless benefits for the skin.
Rich in linoleic acid and fatty acids that help stimulate and promote the production of collagen and elastin, CBD cosmetics are a real 'panacea' for the skin, which appears softer, nourished and perfectly hydrated after just a few applications. Ideal for dry or mature skin, they also help to reduce the damaging effects of free radicals, limiting oxidative processes and effectively combating skin ageing thanks to their high concentration of antioxidants.
CBD oil-based products are also particularly useful in the treatment of skin and dermatological conditions, bringing relief and benefit in the presence of dermatitis, psoriasis and eczema. The reason is simple: cannabidiol or CBD has a strong anti-inflammatory, antibacterial and anti-fungal action.
Last but not least, CBD cosmetics are also a valuable aid in hair care: they cleanse the scalp in depth and respect its natural balance, nourish the scalp and strengthen the hair, making it soft, shiny and vital. They also prevent hair loss, thus constituting an effective anti-hair loss treatment, especially in the presence of alopecia or severe thinning
How to recognise organic cosmetics
An organic cosmetic is easily recognisable: it has recycled packaging and can be identified as such by the label, which lists all the elements used in the formulation in the INCI, in order to facilitate the choice of the end consumer.
Each brand generally selects a basic ingredient, which is the real protagonist of the product: this is a real distinguishing feature that defines its concept and functionality.
The main ingredients used in biocosmetics are water, alcohol, natural ingredients and active ingredients, essential oils and, lastly, colourings, which in this case may also be artificial. Water forms the basis of an organic cosmetic and is often present in massive concentrations compared to the other components that determine the formulation.
Alcohol is the second element present in the INCI: it should not be confused with common alcohol, used as a solvent or antiseptic, as in organic cosmetics it represents a mix of fatty substances aimed at giving the characteristic texture and consistency to the product
Natural ingredients such as essential oils, on the other hand, are easily recognisable as they are labelled with the Latin term for the botanical species of origin.
To confirm the organic cosmetic as such for all intents and purposes, the certification awarded by the specific certification bodies that monitor the formulas of each product, verifying that they meet the quality standards imposed.
Organic cosmetics without nickel
Allergy to nickel is undoubtedly one of the most common manifestations when it comes to cosmetics, characterised by contact dermatitis, rashes, widespread redness and inflammation.

However, allergic reactions to nickel can vary from person to person and rarely appear so severe as to represent a health hazard. A tolerance limit of 1 ppm (1 mg/kg = 0.000001) has been set for nickel-free organic cosmetics. It is therefore easy to find the indication < 1 ppm on the label, which means that out of a million total particles the cosmetic product contains only one nickel.
Paraben-free organic cosmetics
Parabens are organic chemical compounds introduced into cosmetics because of their proven bactericidal and fungicidal properties: used as preservatives in hygiene and personal care products, if they penetrate deep into the skin layers or mucous membranes, they can accumulate, causing serious problems. The most common are Methylparaben, Propylparaben, Ethylparaben, Isobutylparaben, Benzylparaben and Butylparaben, which organic cosmetics with cannabidiol are completely free of.

Paraben-free organic cosmetics guarantee the same effectiveness as these synthetic substances, protecting well-being and health by replacing the chemical components with similar natural elements that are beneficial and respect both health and the environment.
Fragrance-free organic cosmetics
Even the characteristic fragrances of cosmetics can be potentially allergenic, especially if they are of chemical or synthetic origin. Organic cosmetics without fragrance are therefore formulated not only to meet the needs of particularly sensitive and reactive skin, but also and above all to minimise the risk of allergic reactions, especially in particularly susceptible individuals. In this case, artificial fragrances are replaced by pure and natural essential oils, making the product pleasant and even more functional and performing.
Where to find the best cosmetics online
You can find the best CBD beauty products in herbalist's shops, pharmacies and parapharmacies, as well as online in e-commerce dedicated to wellness, health and personal care. We offer Enecta Cosmetics, a wide range of natural CBD-based cosmetics for skin care and the prevention of ageing and oxidative stress.

A pool of natural and plant-based ingredients is combined with the enormous potential of CBD, offering effective and high-performance cosmetics that meet all skin and dermatological needs.