Due to its "noble" origins, the Gorilla Kush marijuana variety, created in the USA from the hybridisation of valuable and particularly potent strains, is certainly one of the most appreciated available on the market. Gorilla Kush not only stands out for its high THC content, which makes for a sensational high, but also and above all for its aroma, characterised by intense diesel and earthy scents, spicy notes and a fresh mango flavour that tickles the palate, making the experience pleasant, relaxing and invigorating.

Similarly, the effects are not to be underestimated: Gorilla Kush delivers a powerful high that hits with the same force and vigour as the classic primate beating his chest... the name certainly can't be described as "accidental". Ready for harvest after 8-9 weeks of flowering, the Gorilla Kush marijuana strain is distinguished by her high production of weed resin, as well as her innate ability to absorb nutrients in an optimal and highly efficient way, so growers will have no difficulty growing and producing this good weed that has been known for years for its remarkable quality. In this guide, we will learn all the secrets of the Gorilla Kush cannabis strain, its characteristics, effects and how to best cultivate it to increase its yield.
What is Gorilla Kush, what does she look like, how to recognise her?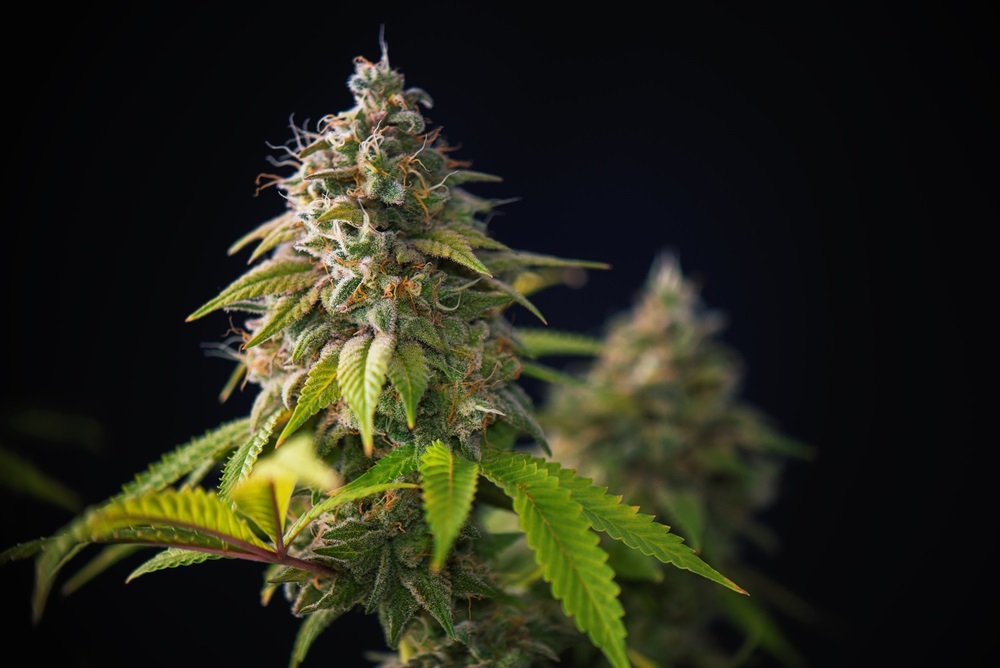 Gorilla Kush is an indica-dominant hybrid marijuana strain originating from the USA. It is the result of crossing prized genetics such as the powerful and much-loved Gorilla Glue, Black Domina and Blueberry, strains that give Gorilla Kush an unmistakable terpene profile and pleasant, unexpected effects that help relieve tension, relieve insomnia and stress and reduce chronic pain. It is no coincidence that it is therefore considered to be on a par with medical marijuana.
Like most indica cannabis strains, Gorilla Kush therefore produces effects that are classified as 'stone', meaning that its action after consumption appears to be predominantly physical, focusing on the body. In spite of THC concentrations that can easily reach 19/21% and relatively low CBD, the high is still moderate, yet quick, sudden and almost abrupt. It can easily accentuate physical sensations such as hearing, taste, and touch, without altering spatial perception or affecting motor skills.
Gorilla Kush marijuana is therefore suitable if you want to promote relaxation and meditation, relieve stress and tension and promote quality sleep.
Gorilla Kush takes on every aspect of the indica genetics perfectly, starting with the purely morphological: the plants are compact and well-branched, accompanied by dark lanceolate leaves that are not as thin as sativa genetics, and generate dense clusters of inflorescences that appear full and rather rounded at the same time. The advantage for growers is that they tend to grow larger in width and diameter than they do in height, making cultivation easier to manage. Gorilla Kush specimens reach a manageable, moderate height of around 80-140 cm, whether grown indoors in a grow box or grow room, or outdoors where they can grow up to 130-170 cm.
Not to be underestimated is the production yield of the Gorilla Kush marijuana variety: grown indoors, it can generate 450 to 550 g/m² of plant matter while outdoors, up to 550/570 g per strain. The unmistakable features are the dense, compact inflorescences that tend to be light green with darker shades. In them, a multitude of bright, saturated orange pistils and trichomes, extremely rich in weed resin, stand out. They are clearly visible as they create a real crystalline, shiny patina over the entire surface of the plant material, which therefore appears rather sticky to the touch, providing a concentration of cannabinoids that is certainly appreciated by lovers of quality cannabis.
However, one of the factors that make Gorilla Kush one of the most popular cannabis strains of all time is undoubtedly the aroma: intense notes of diesel, typical of Gorilla Glue, combine with hints of pine and spices, all accompanied by a mix of earthy and fruity notes that give rise to a pleasant and unusual taste of mango, giving freshness. A true pleasure for the palate, intended for connoisseurs but also appreciated by those who, for the first time, are about to enjoy this variety in its entirety, benefiting from the pleasant effects.
Effects of Gorilla Kush
Like all indica cannabis strains, Gorilla Kush stands out for its ability to cause a strong sedative effect, which is appreciated by those who need to relax or improve the quality of their night's sleep, as well as those who suffer from anxiety, chronic pain or repeated and prolonged muscle spasms.

These predominantly physical effects are included in the term 'stone', which is different from the classic 'high' generally determined by cannabis sativa varieties. However, this does not mean that Gorilla Kush does not have a psychoactive or psychotropic effect, especially given its high THC concentration of around 19%, but rather that it has a more physical component, accompanied by a sedative effect that is particularly useful in the evening, especially if you have difficulty falling asleep. However, Gorilla Kush is not only a natural remedy for those suffering from insomnia, but also and above all a viable alternative to opioid drugs for those suffering from chronic pain. It can be used in the same way as medical cannabis as a muscle relaxant, antispasmodic and in the treatment of potentially disabling conditions such as multiple sclerosis, fibromyalgia and rheumatoid arthritis.
The strong analgesic properties also make Gorilla Kush an effective remedy for migraine headaches, as it has a remarkably calming effect, which is also useful for those suffering from anxiety or panic attacks.
Anxiety, paranoia, dry mouth, reddening of the eye area and rapid heartbeat are undoubtedly the most frequent, but they tend to resolve spontaneously within a fairly short period of time.
How to recognise Gorilla Kush seeds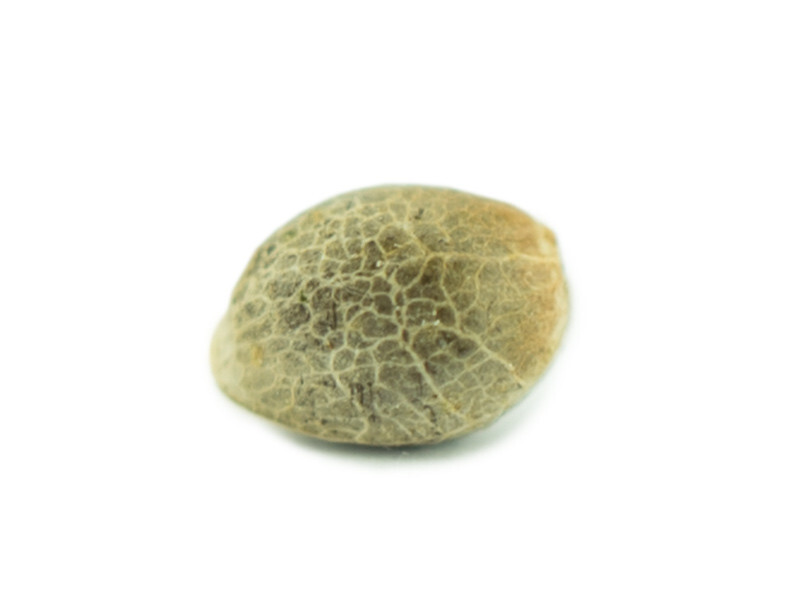 Recognising Gorilla Kush seeds simply at a glance, as with all cannabis genetics, is by no means easy, as feminised seeds tend to look similar quite often.
However, Gorilla Kush seeds tend to be distinguished by their colour, which tends to be light brown, accompanied by shades and small yellow veins, as well as their typically spherical shape. Another aspect not to be underestimated is the brightness of the seed itself, as well as its hard, leathery texture, both of which are synonymous with quality and freshness.

A fresh, well-preserved seed offers a better chance of germinating, making it easier to produce healthy, hardy specimens.
How to grow Gorilla Kush indoors


Gorilla Kush is ideal for indoor growing because the fully grown specimens are handy and small. Grown in grow boxes and grow rooms equipped with appropriate cannabis lamps and adequate watering and ventilation systems, they can reach a height of around 80-140 cm, producing up to 450-550 g/m² of good weed. Suitable even for novice growers, thanks to her fast flowering time of about 8/9 weeks, she doesn't need any special care, just optimal feeding and nutrient supply, which is amply rewarded by the variety's innate receptivity.

How to grow Gorilla Kush outdoors

The Gorilla Kush marijuana strain is well-suited for outdoor cannabis cultivation as long as it is grown in a predominantly mild or warm climate where it offers its full potential. In this case, the specimens, once again derived from auto-flowering feminized seeds, follow the photoperiod, do not require any particular attention, except for regular watering and nutrient administration and can reach an approximate height of 130-170 cm. Once again, the production yield is excellent: each specimen, if properly cared for, can easily produce between 550 and 570 g of good grass, retaining all the organoleptic characteristics of the genetics.

In this case, harvesting in an outdoor environment generally takes place at the end of October, and then the process of drying and preserving the final product, the ultimate goal of any self-respecting grower, can begin freely.
Whether growing hemp outdoors or in a grow box or grow room, Gorilla Kush marijuana will easily repay any effort, providing relaxation whenever you want to calm your nerves and release tension, quickly giving you a pleasant feeling of well-being and mental freedom that will increase your creative juices and productivity.