The Candy Kush marijuana strain is known to encompass characteristics of indica, sativa and ruderalis cannabis in its strain. A cross between prized ancestors such as Auto Pounder and Kush, as the name suggests, which is reminiscent of a sweet candy, Candy Kush has a typically sweet taste with an intense and pleasant lemon aroma.
Beloved and particularly popular with cultivators dedicated to medical growing cannabis, the Candy Kush marijuana strain delivers a powerful body high while providing a strong analgesic effect for pain relief. Relatively easy to grow, even for beginners, Candy Kush is perfectly capable of meeting all needs, starting with the yield aspect itself.
In this guide we will therefore discover all the characteristics of this genetic, the effects it can create and how best to grow it in order to obtain good, high-quality weed, ready to use whenever necessary.
Candy Kush: history, appearance and characteristics
Candy Kush is a marijuana strain that, despite its compact size, is one of the most appreciated and popular marijuana strains because it gives great flavours, intense aromas and definitely noteworthy potency. It is the result of a series of experiments carried out by the experienced growers at Auto Seeds with the aim of obtaining genetics that would guarantee fast growth combined with a considerable yield and a unique taste that would hardly disappoint the end user. Aimed at all those who want intense flavours and aromas and a long lasting high, Candy Kush marijuana strain is sure to impress, starting with the inflorescences, always dense and compact, covered with fine weed resin and rich in THC and CBD cannabinoids.

Being a hybrid of mostly indica, sativa and a small amount of ruderalis cannabis, it offers high THC levels of around 19-22% and low CBD concentrations of around 5%. Discreet and compact, Candy Kush specimens, whether grown indoors in a grow box or grow room or outdoors, are extremely easy to manage and control. Candy Kush plants, full of flexible branches and medium to dark green foliage, generally reach about 60 cm, expanding mostly in width and producing about 400 g/m² of precious plant matter.

The inflorescences themselves are compact but very dense, although smaller in size than other similar genetics. They are light green in colour, interspersed with bright orange pistils and trichomes that are extremely rich in weed resin, which covers their surface and makes them crystal clear: a real treat for the palate of the regular user who, as a connoisseur, will appreciate every nuance due to the massive presence of terpenes.

Being an indica-dominant strain, Candy Kush also retains all the peculiarities of indica-dominant genetics: it produces mainly bodily, sedative and relaxing effects, making it easy to reduce stress, tension and anxiety, making it suitable for evening use and for those who wish to improve the quality of their sleep. Whether smoked from a joint, a bong or a weed vaporizer, the result is always the same: pure relaxation and relaxation.

The terpene profile of Candy Kush also proves to be particularly interesting, the same terpene profile that creates an intense, unique and extremely satisfying aroma: the expression Candy Kush was not given to this marijuana strain by chance. Sweet, spicy, aromatic, right from the first puff, it gives a delicate caramel taste and all the typical Kush aromas, resulting in a contrast that, although complex, is always very satisfying. Once tried, it is certainly difficult to do without.

Effects of Candy Kush
The effects of the Candy Kush marijuana strain are almost exactly the same as with indica genetics, providing a powerful high with high THC concentrations of 19-21%, all quickly and with a long lasting action. Predominant is the feeling of relaxing wellbeing that quickly takes over the whole body, regardless of how it is taken: Candy Kush is not actually able to literally 'couch lock' you, but as a relaxing ability, we can safely say it is second to none, not even medical cannabis.
It has a beneficial analgesic, soothing and relaxing effect, making it ideal for use in the evening to release the tensions accumulated during the day and promote sleep. Just like Gorilla Kush, it can easily replace any pain-relieving therapy in the presence of chronic pain conditions: from multiple sclerosis to rheumatoid arthritis, it acts as a natural antispasmodic, anti-inflammatory and muscle relaxant, providing prolonged relief.

Side effects from Candy Kush are rare and sporadic and, as with any cannabis strain, are generally caused by an overdose of cannabinoids, particularly THC, when taken. The most common side effects tend to be dry mouth, red eyes, mild motor difficulties and altered perception of time and space. Manifestations such as paranoia, tachycardia, generalised anxiety and migraine are rarer, but tend to resolve quickly and spontaneously, without the need for medical intervention.
How to recognise Candy Kush seeds
Recognising Candy Kush feminized seeds at a glance is no easy task, due to the 'multitude' of marijuana strains available on the market. Generally speaking, Candy Kush autoflowering cannabis seeds appear brownish in colour, slightly ovoid in shape, with light brown mottling that makes the surface quite varied.

However, it is always necessary to check that autoflowering seeds appear bright and shiny, hard to the touch and completely free of surface abnormalities. These factors are important indicators of the true freshness and integrity of the seed itself, which will then be able to germinate and develop strong, healthy plants throughout their development and growth cycle.
How to grow Candy Kush indoors
Growing Candy Kush marijuana appears to be quite simple and rewarding for both experienced growers and newbies who want to focus on genetics with appreciable yields without the commitment of constant care: Versatile and easy to control, thanks to their small size (barely over 70cm), Candy Kush plants require little maintenance when grown indoors, in grow boxes or grow rooms, while retaining a strong fibre and thriving easily, resisting pests, mould and infestation.

All that is needed is specific cannabis lamps and adequate irrigation and ventilation systems to create the perfect environment, although since this is an auto-flowering variety, it is still adaptable to any climatic and environmental conditions. The flowering period is about 65-75 days and if grown properly, with pruning and repeated feeding of nutrients and fertilizers, the Candy Kush marijuana variety can produce about 400g/m² of plant matter. It is certainly the most suitable genetics for indoor cultivation, since the small size of the specimens simplifies the management of the cultivation considerably, lending itself perfectly to small, generally narrow spaces.
How to grow Candy Kush outdoors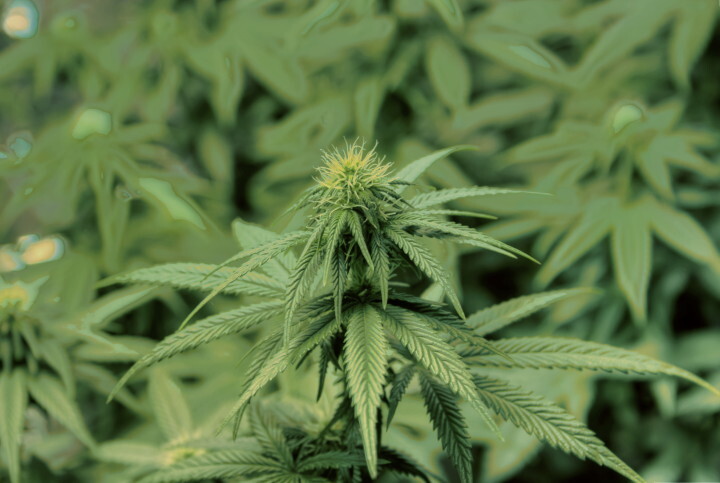 Candy Kush marijuana, although normally recommended for indoor cultivation, can also be grown outdoors in large open spaces as long as the climate is warm or at least mild and temperate. Once again, the plants do not require any special care or excessive maintenance other than regular watering and the addition of specific nutrients and fertilisers where necessary. Even in this case the growth of the plants appears moderate and rather restrained: the specimens can reach a maximum height of about 70 cm, expanding mainly in width. When grown correctly, Candy Kush can produce around 500 g of buds per plant, with flowering taking around 7-9 weeks.

The best time to harvest is once again at the end of October, and once the inflorescences have been cut off, they can be dried and stored for the final product, which is a good, high-quality weed that is extremely aromatic and full of flavour...a real treat to be enjoyed by even the most discerning palates. However, as with marijuana with a high THC content, cannabis should always be taken in moderation in order to avoid the side effects of overdosing on THC, the active cannabinoid ingredient with psychotropic action, which can lead to adverse reactions. It is therefore better not to abuse the product, but to enjoy it in a moderate and judicious manner!